Learn About Our Professional Martial Arts Staff
All martial arts instructors at Kang's Institute of Tae Kwon-Do in Tulsa, OK are trained to ensure that our martial arts classes are safe, effective and fun.
Our instructors and instructor assistants are trained to focus on more than just teaching martial arts skills. Instructors also learn how to work with all students, tailoring their martial arts teaching methods to fit the individual child. Emphasis is put on encouragement and positive correction.
We are committed to teaching the physical skills of martial arts while applying attitude-shaping exercises aimed at bringing out the best character and physical potential in each student. Through weekly martial arts training, instructors advance their own martial art and educational knowledge to become even more effective martial arts teachers.
The Kang's Institute of Tae Kwon-Do instructors are required to maintain their personal level of martial arts knowledge and a high level of personal growth. They are expected to take classes on a regular basis and test at least once per year.
Our Tulsa Martial Arts staff at Kang's Institute of Tae Kwon-Do looks forward to working with you.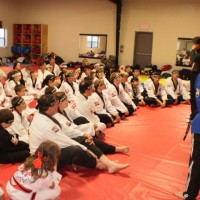 We take teaching very seriously and work with our instructors to make sure we provide a safe and disciplined environment.  We  want your time spent here at the dojang (TaeKwon-Do School) to be a total immersion in learning the skills needed for success in life.
Master Bong Kang
A Chief Instructor at the Broken Arrow location, Master Kang is the second son of Grand Master D.W. Kang.  He is a recent U.S. Open Heavyweight Gold Medalist and many time Oklahoma State Champion.  He has a talent for inspiring others to do better and loves to travel out into the community spreading the message of TaeKwon-Do.  He has raised the awareness of drugs at local elementary schools and has also taught the DVIS program for abused women.  He is an active member of the local church as a 'rhythm guitar player' at Venue 68 / Asbury.  He is also a member of Church on the Move and has enjoyed many relationships with his brothers in Christ at those locations.  He is an active member of the community and is also a supporter in helping to manage the 'wildlife population'.
Master Yong Kang
Yong is a recent graduate of Tulsa University as a BM in Piano Performance and is the youngest of the three brothers.  He is the Main Instructor at the Tulsa location.  He started learning TaeKwon-Do at the age of 7 and has 22 years of experience in the dojang.  The time on the floor has given him the opportunity to be a qualified instructor and natural leader. He is known to be very patient with students and to help them to develop skills and the confidence that follows. His own practice is still very important to him as he keeps an intensive routine several days per week. When he is not teaching or training, he enjoys his free time with his wife Jessica.